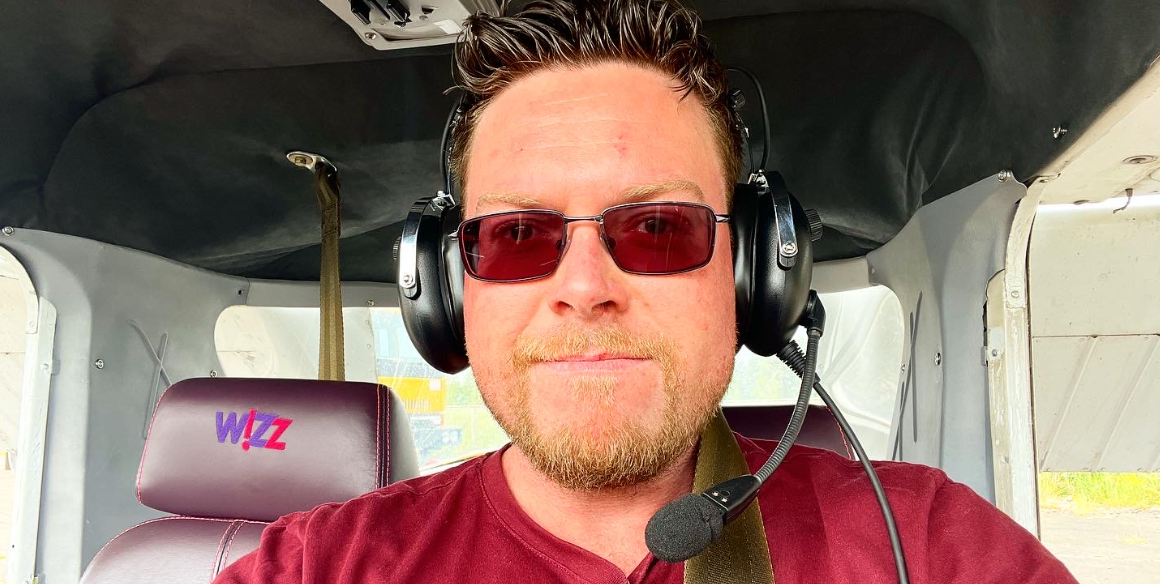 Buckle up because this is a big one.
This trip to the flight school was full of events, learnings and concluded with my first attempt at one of the nine theory exams you must pass before you can be granted your pilot's license. Read on to see how I did.
And this time I remembered the GoPro, so if you prefer to watch rather than read, jump straight to the video here.
Machine Meet
There's usually enough pressure from the little perfectionist voice in your head to make you cock-up a few landings, but today I'd also convinced my wife and daughter, and my parents, to come and watch me fly.
To make matters worse there was also several dozen visitors enjoying the 'Machine Meet', a regular event at the airfield where people bring their interesting cars and fly-in in their aircraft.
As my instructor said as I came in for my first approach to land, "don't let the huge crowd put you off."
Thanks.
Pre-flight Checks
I met my instructor, who said "let's complete your solo hours today," and sent me out to perform the pre-flight checks.
Instead of "ZU" (G-ASZU to use her full registration), which I have flown all year, today I would be in "UJ" and expect to only fly UJ for the rest of my training. As ZU is quite a rare, old aircraft, a Cessna 150E, her parts are expensive so the flight school is restricting her use only to private hire, not flight training. I very much look forward to flying her again once I have my license.
I waded through the crowd at the Machine Meet and walked across both the grass and "hard" runways to get to UJ. As I ran through the multi-page pre-flight checklist I filmed ZU arriving over the trees in a gusty wind and hitting some windshear – which I would do so later – with the GoPro running.
A few minutes later I was visually checking the fuel tanks to make sure they reflected what the fuel gauges were saying (both full, check!) when a Grumman AA1A pulled onto the runway. I've not seen a Grumman in the flesh before, but I am a huge fan of Fly With Bruno, who flies an AA5A on his popular (for good reason) YouTube channel.
I just had to film its take off:
Take Off!
My instructor joined me in the aircraft and I started it up, taxied to the holding point and took off in front of the crowd, knowing my wife was recording the take off:
After a couple of times around the circuit, with some half-decent landings, the instructor asked me to drop him off at holding point Bravo, the one closest to the clubhouse, and I started 50 minutes of solo circuits.
This was very eventful – with a missed approach due to an aircraft blocking the runway, lots of floating down the runway trying to land it whilst practising flapless approaches, and quite a lot of turbulence from the almost-summer sun blasting the fields.
Take a look:
Wait, What About The Exam?
So I got to experience one of the weirdest parts of the learning-to-fly experience: the online theory test.
You have to go onto the Civil Aviation Authority (CAA) website, add the theory exam (in this case 010 Air Law) to your "cart", pay for them, then you get an email, in which there are a set of codes you have to enter, and then you're ready to sit the test.
The exam consists of 16 multiple-choice questions about the Rules of the Air – a set of regulations spread across a range of documents including the International Civil Aviation Organisation's Chicago Convention Annexes, the European Union's Standardised European Rules of the Air (SERA), which is still a large part of UK aviation regulation, the UK's 2016 Air Navigation Order (ANO) and a variety of other standards and statutes.
All of which I've been trying to consume day and night for weeks.
Topic such as signals squares, runway lighting, airspace separation, control area pressure settings, emergency procedures and what do to when intercepted by a military aircraft in a foreign country have been rattling around in my brain. I've dreamt about squawk codes and aerodrome traffic zone joining procedures.
With 35 minutes to complete the test I started, and 10 minutes later I was done.
The screen just showed "Complete". I called my instructor in who had been supervising through the office window, and he said the result would be emailed to me.
I grabbed my phone from the desk where I'd left it (no cheating!) and sure enough there was the email.
I opened it.
Standard blurb, and there was an attachment, so I pressed that. And waited.
And waited.
Rural airfields are not known for their speedy internet.
(Am I doing this to build tension? You bet I am).
And finally it appeared.