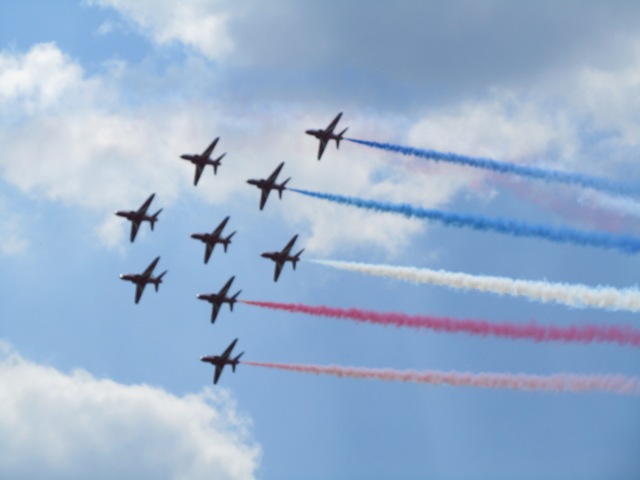 While the world was watching the Great North Run 2012 runners begin their harrowing half marathon from Newcastle to South Shields, those of us with more of an interest in aviation than athletics (despite trying to change that) were watching something else: the skies.
The Great North Run 2012 – An Aviation Geek's Perspective
As is now tradition, the Royal Air Force's (RAF) Red Arrows aerobatic flight display team opened the race with an epic fly over of Newcastle's iconic Tyne Bridge complete with smoke trails.
Exactly two minutes before the flyover, I was driving at moderate speed (Officer!) towards Newcastle International Airport listening to the brand new airband receiver my gorgeous wife bought me two days prior for my 28th birthday.
"Red Arrows ten miles to the north, they're going to fly over the airport before turning towards the Tyne Bridge for the flypast."
… said the lady Air Traffic Controller.
10 miles! That will give me just enough time to get parked up and walk along to the unofficial viewing area at the arrivals end of runway 25. My estimate was based on the time it normally takes airliners on approach to Newcastle Airport to travel the 10 miles from left base to short final.
My estimate was horribly wrong.
I whipped Lucy, my trusty Audi A6, into a parking spot just as the entire sky started to shriek with the sound of eight, low flying BAe Hawks. In red. Bollocks! I reached for my cameraphone, unlocked the screen, fired up the camera app… I was too late. Well, mostly: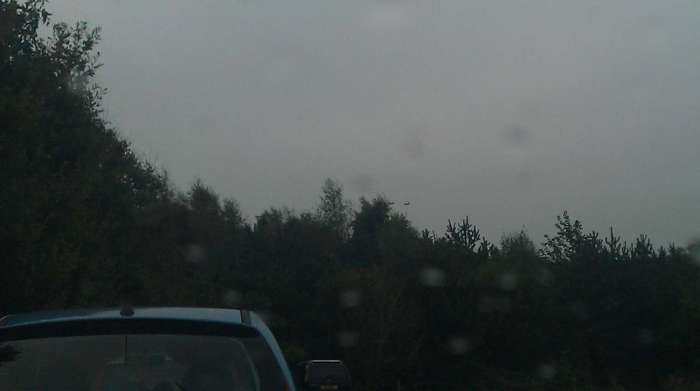 Not even ten seconds later, the radio erupted with sound – only this time  it wasn't the airband receiver, it was the car radio – as the presenters of the Great North Run 2012 coverage were fighting against the sound of exploding aviation fuel. And losing. Badly.
As cool as that was, I wish I'd gotten a better photo, I fire Lucy back up and get ready to leave.
"The Red Arrows are on a ten mile final, they'll do a loop over the airfield then come in to land."
… said ATC. I was starting to love this woman!
I switched the car off and sprinted along the road to the unofficial viewing area just in time to video their secret show for the airplane geeks, while the rest of the world continued to watch the running…