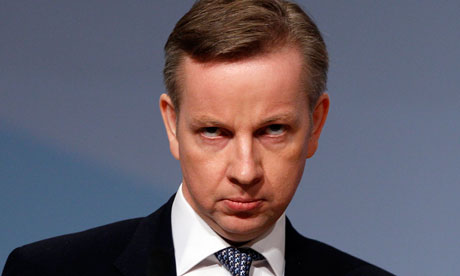 This is going viral, originally from TES:
Dear Michael Gove,

You will never read this, but I feel compelled to put it out there in the faint hope that more people will realise the repercussions of your latest initiative. I am proud to work at a small school, on a small estate, in the most deprived ward in the county. The life expectancy in this ward is a full 20 years lower than the neighbouring village, which tells you a little bit about our intake. Add to this that within our 530 students, we have 36 different languages spoken and over 40% of students do not count English as their first language. Effectively, we are everything you hate and everything you would like to abolish. We are the skidmark on the sparkling underpants of your brave new world of academies and free schools. It is no secret that you would like nothing more than to see us swallowed up by a nearby school which features higher in your flawed league tables, but we have worked relentlessly hard to maintain our independence and have done enough, miraculously, to keep our heads above your floor targets for the last couple of years.

This time last year, I got immense pleasure when watching my English group, all boys, opening their exam results. 13 of this class of 22 were learning English as an additional language and a further 7 were on the special educational needs register. I was delighted, as you would imagine, that 21 of them passed their English and English Literature Exams and headed off to college, full of confidence and ambition. They hadn't had the greatest start in life, but had worked incredibly hard to achieve what may seem to you a modest grade C at GCSE level. Today, I was excited to witness more of the same. The anticipation and excitement I feel on results day is something a thousand times more than when I received my own results. Anyone who teaches at my, or a similar school, will tell you exactly the same. We don't teach students whose parents pay big money for them to learn Latin with private tutors, simply to be used as status symbols at social gatherings. We teach kids who have seen more turmoil and turbulence in their young lives than you or I will ever have to face and I can tell you that watching them learn that they have passed their GCSEs is the most satisfying, heart-warming reward you could ever imagine.

Fortunately, this year I was given a high set (where only about 30% of students were either EAL or SEN students) and they all performed exceptionally well. However, I spent the vast majority of the morning consoling students, who worked more than hard enough to achieve a C grade in English, had been predicted a C grade in English and effectively had earned a C grade in English, but had been credited with a D grade, thus scuppering their chances of going to a college which had conditionally accepted them based on their predicted grades. Just to be exceptionally clear, these are not privileged kids who were bright enough to get a high grade, but just couldn't be bothered to work. These are students who are learning English as a second, sometimes third, language who have attended every revision session provided and still requested more, leading to some of us teachers having to put video lessons on YouTube to quench their never-ending thirst for knowledge. The work ethic shown by some of these students to overcome their language barriers was breathtaking and awe-inspiring. When coming to collect their results, they were far too humble to be over-confident, let alone complacent, but deep down they were content with the knowledge that they had given their all.

On opening the envelopes and seeing their D grades, each and every one of them covered their faces due to the shame that they felt. They should, of course, have been celebrating. But instead, a combination of devastation, embarrassment and confusion descended upon them and it was left to us teachers to try to explain to them what had gone wrong. The wrongdoing, it has become clear, was not their own doing. It would appear that, in a bid to halt the increase in GCSE passes, particularly in English, you have put pressure on exam boards to ensure that only a certain number of students achieve a C grade or above. When the January examination results came out, it would seem that far too many students were passing, so something would have to change for those unfortunate enough to be entered at the end of the GCSE course, which is ironically something that you are trying to make compulsory. So, the marks entered for Speaking & Listening and Written Controlled Assessment (60% of the final grade) were moderated, and agreed. This gave a number of students false hope that they had already achieved a pass in more than half of the course and all they had to do was match that mark in their examination. Incredibly, it has become apparent that the raw marks given for this part of the course, when converted, are now worth less than originally suggested and less than the credit given to those students whose identical work was submitted in January. This has, in turn, meant that these students were entering the exam, where they traditionally struggle due to issues with accessing the questions, on D grades. They never stood a chance, but they didn't know. Unfortunately, they found out today. They can't understand why someone would want to play around with their futures in such a cruel way and we, as teachers, should not have to be the ones to explain it to them.

You have not simply moved the goalposts. You have demolished them, sold off the playing fields where they once stood and left the dreams of these youngsters in tatters. So, there we go. It appears that today you got what you wanted. The statistics show that GCSE passes are down and to you, statistics is all they will ever be. But to me and every other teacher I have had the pleasure of working with, these children are not statistics. They are young people who you have betrayed and will forever be affected by the contents in that envelope which they opened today. We teachers will continue to do our jobs and sleep soundly in the knowledge that we did all that we could and will continue to do so.
In a difficult world where we need to ensure our children have no barriers to great education to ensure the continuity of once-Great Britain, it is time for Mr. Gove to stop treating real people's lives with such reckless disregard. It's time for his resignation and subsequent drift into anonymity. Your time is up Mr. Gove. The bell has rang.