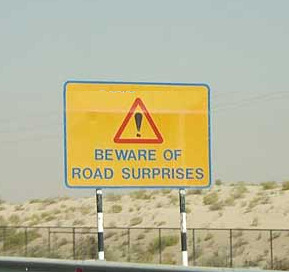 This morning, commuters have awoken to find new road markings on my beloved B6317 approach to Blaydon roundabout. And these ones make much more sense.
Instead of having two lanes, one which ends abruptly, with no signage – not even a warning that there IS a new road layout!! – and the other which helpfully splits into two, somebody has had the sense to have two lanes…. which actually stay as two lanes all the way to the roundabout!! (Who could have fathomed such an excitingly simple solution????!)
Feedback
Although I am yet to hear back from Gateshead Council myself, a family member has received word as why the insane hazard to life and limb was brought about over the weekend:
Dear Sir,
The scheme was selected as one of the local safety schemes for last year and identified a number of collisions due to vehicles entering the roundabout from Stella road and colliding with the vehicles already on the roundabout. The scheme was however delayed until now due to utility works.

The entrance to the roundabout has been reduced to two lanes from three but the two remaining lanes allow cars going straight ahead to use both lanes unlike at present when one lane was for right turn only with two lanes for straight ahead traffic. The distance of road reduced to two lane means the new design has displaced 3 cars queuing area on the approach to the roundabout. The road markings on the approach to the roundabout have now been amended and the remaining road markings on the roundabout  are programmed for Thursday night. Some of the markings are however temporary in nature and will need to be re-applied after the surfacing work which is provisionally programmed for July is complete.

We will of course continue to monitor the roundabout following the completion of the scheme

Neil A Frier
Team Leader Traffic Solutions Transport Strategy
[contact details removed]
So the switch from three lanes to two is to reduce the flow of traffic onto the roundabout and thus reduce the risk of collisions on the roundabout from people storming out of one of the three lanes without looking.
I'll admit, that makes sense. But I'm still confused – why spend a week digging up the road, widening the pavement and not updating the road markings (and not putting any signs up warning people about it!!!!!), and then leaving it like that for a few days. Once people start to complain about it, more roadworks went up, but they were only there to finish off the kerb on the widened pavement.
And finally, after a nightmare Monday morning commute where I saw lots of sudden braking from unaware people in the inside lane who have found their lane dissolves into oblivion, new markings were done overnight. All without any consultation with people affected by the roadworks. And all without appropriate signage!!!
Sorry, Mr Frier, despite your good intentions, it has been handled disastrously. We, The Affected, are still waiting for an apology because there was a distinct lack of one in your reply I've posted above…