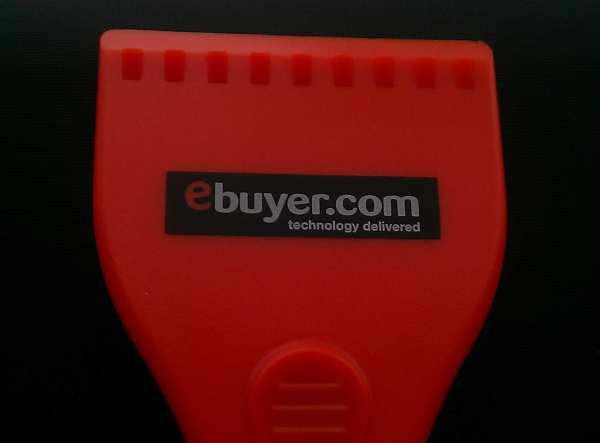 I'm the first to complain when a business treats me badly. But I'm also the first to sing the praises of a company who have given me a good experience. This Christmas, online technology box-mover, eBuyer have really impressed me…
I ordered a new graphics card one Monday night in early December and I wasn't in any rush so chose the free 5-day delivery option. It arrived on Thursday morning with a little gift (right); a bright orange, heavy-duty plastic ice scraper. This was genius, considering a very cold spell had just started.
The graphics card (a fairly budget AMD/ATi Radeon HD 5770, as recommended by Tom's Hardware) was very well packed, nestling in a psychiatric ward safe-room of enormous air bags and a good cardboard box. I've had damaged equipment arrive from other retailers due to insufficient protection in transit so this was a relief.
The card, it turned out, was not as good as eBuyer's service so far. Within half an hour of installing it, my PC had crashed badly several times. I'd never seen a Blue-Screen Of Death (BSOD) before on Windows 7, but sure enough, I was getting them every few minutes now. "SYSTEM_SERVICE_EXCEPTION", "MEMORY_MANAGEMENT", they said.
Now it was time to see how eBuyer handles returns during the manic Christmas period.
I used their "Online Returns" system on their website. I put in some details (most of the form was pre-filled with information because they knew I was returning a recent order) and then submitted the request. Immediately I got a message saying the return had been "deferred to managers" and I had to phone a number to progress the return.
Uh-oh. Had the wheels fallen off my eBuyer Great Experience wagon?
No. They explained in plain and simple English on their website that sometimes companies (such as AMD/ATi) want to deal with problems direct with their customers, especially technical problems, so that people receive a consistent experience. That makes a lot of sense, while unburdening the box shifters like eBuyer from unnecessary customer service hassles. However, when I called the number, they clarified some of the problems I was reporting and said they wouldn't need to refer me to the manufacturers. They organised a courier for me and sent an email with a link in it so I can pick the best pick up time for me. I choose the next day (17th December), between 9am and 6pm. At 10am the box was picked up and on the 23rd I got an email notification saying it had arrived at eBuyer's Howden, Yorkshire HQ.
I didn't expect anything quickly as I indulged in some festive spirit and expected the eBuyer staff to do the same. Yesterday (29th December) I got an another alert saying they had tested the graphics card and found it to be faulty. They had refunded all of my money.
Every step of the way, eBuyer:
Kept me in the loop
Gave me all the information I needed, when I needed it, in plain English
Notified me by the most appropriate method – email, which follows me around on my PCs, laptops and phones.
It was a brilliant display of how to look after your customer. I am a delighted camper and have ordered a new card through eBuyer today.