Nefertiti was warned about her smoking habit
Since June 7th 1995 there has never been a fatal crash involving the Boeing 777. It has an exemplary safety record, currently holds the longest flight of a commercial airliner (11,664 nautical miles or 21,601 km in 22hr 22min) and is the largest twin-engined jet aircraft. Despite being awesome, the second Boeing 777 has just been sent to that great big hangar in the sky.

The first Boeing 777 to be written off was G-YMMM, a British Airways 777-236ER operating as flight 38 from Beijing crashed 330m short of runway 27R at Heathrow Airport on 17th January 2008. Although one landing gear went straight up through the wing, and another sheared off completely, all 152 people on board, including the crew, made it out safely.


SU-GBP
On 29th July 2011 an Egyptair 777-200 was about to operate flight MS662 from Cairo to Jeddah when the First Officer's oxygen system burst into flames and burned right through the fuselage.
Just for the aviationally challenged... that isn't supposed to happen.
The 777 Glue Factory
Just to add lemon juice to the wound of the BA and Egyptair 772s' permanent departure, there are other 777s that will never feel the cutting chill of the rarified air at 43,000, but aren't technically classed as a "hull loss" - i.e. not the result of damage.
Boeing 777s from Varig, Air India are sitting in storage as I type this, set to be scrapped.
Boo!!! :( Godspeed, Worldliners.
The Circle of Lifte
To end on a positive note, British Airways' Boeing 747-8F cargo plane is on the flight line at Boeing's Everett factory. And she's looking stunning!!!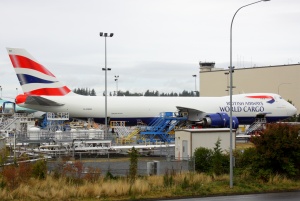 (click for larger)