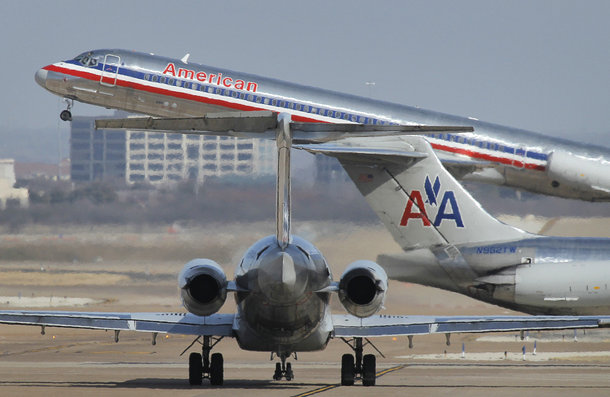 American Airlines: Wants more paraffin budgies
Last week it emerged that AMR, the parent company of American Airlines, was going to make a very large order for new aircraft. What wasn't clear was just how very large the order would be.

American Airlines narrowly avoided Chapter 11 bankruptcy shortly after the attacks of September 11th, 2001, while some of its biggest competitors (Delta, Northwest, United) went bust but it still has huge debts. This month, AMR released its figures for 2011 Q2 which were not promising:



Net loss $286m, compared to $11m loss in 2010 Q2


Debt up $1bn compared to 2010 Q2, bringing total debt to $17.1bn


Revenue per average seat-mile (RASM) up 4.9% but well below industry average of +8.9%


Japan Earthquake cost approx $60m


Fuel costs up 30% year-on-year, costing an extra $525m compared to last year, even with $135m benefit due to fuel hedging


So, looks like a lost cause really. I wonder how it feels to be at the top of a company with $17.1bn owing? The old saying "there's always somebody worse off" is strained here. I suppose Gerard Arpey, Chairman and CEO of AMR Corporation can look up at President Obama who sits on top of a $17tn deficit and smile.
To his credit, Arpey isn't giving up, he's taking the bull by the horns and he's investing in American Airlines' long-term future.
Wednesday saw AMR place an order for a total of 460 brand new aircraft to completely transform the fleet. The order included 260 Airbus A320NEO aircraft, the type that
AirAsia ordered
earlier this month at Paris, and an order for 200 Boeing 737s.
The order appeared to come in response to Boeing announcing that they would put new more-fuel-efficient engines on the 737 if American ordered enough. The LEAP-X engine by CFM International has been identified as the powerplant of choice. The order breaks down into two parts, one order for 100 737NG, or Next Generation, aircraft, of which AA already has 156 in their fleet, with options for 40 more; and the second part of the order is for 100 of the re-engined 737. The first airline to commit to the type.
However, the 737 re-engining programme is still yet to be given the green light by the Boeing board.
Deliveries are to start in 2013 and run through til 2022, although extra options could mean deliveries of a further 465 aircraft which will mean deliveries to continue until 2025.
American Airlines will become the first US network carrier to take delivery of the Airbus A320NEO in 2017.
It's a bold and very brave move by AMR, which will either make them heroes or zeroes in the arline world. Personally, I think it's worth a punt, especially given the current state of the organisation. The new fleet will be the youngest and most fuel efficient of any US mainline carrier and should give the company a competitive advantage while other airlines play catch-up.
Man, I bet AirAsia are pissed. They only squeezed a couple of weeks of 'record breaking' PR out of their $15bn investment in 200 A320NEOs...
It reminds me of the old saying in aviation: "How do you make a million bucks in the airline industry? Easy. Start with a billion."