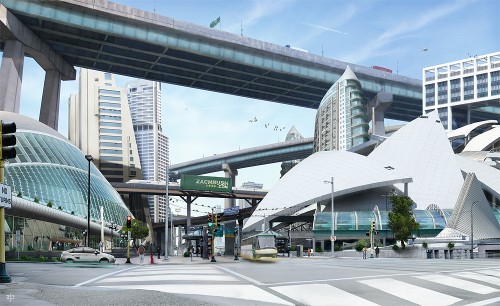 Nobody really knows what the world of future technology will bring. 10 years ago the word "Facebook" didn't mean anything, Nokia was the largest mobile phone maker in the world, Apple's very first iPod was only 6 months old, Bill Gates was still in charge of Microsoft having just settled the lawsuit filed by the DoJ, and Google hadn't even gone public yet. In 10 years time we can expect more crazy changes as technology advancement is accelerating at unprecedented pace. Here is a story which encapsulates some of my predictions about Earth, 2022.
Commuting
@614, Sometime in August, 2022, New York City, New York
Chen slammed the door shut behind her, leapt down the steps three at-a-time and hit the pavement running. She absolutely could not be late for this interview!
"Time," she demanded.
"Six fifteen, precisely," said the tiny earpiece. It was probably right. It was as accurate as any atomic clock on Earth. "You have nine beats to arrive for your interview." Her music resumed, at the perfect volume for the ambient noise on the streets.
"Thanks." She accelerated through the New York City pedestrians clogging the streets. To be fair, it wasn't gridlock. Most business was done from the home these days so there was easily enough room to sprint without slamming into anybody (too hard). Ultra high-speed broadband connections (MassivBand®) meant you could hold MassivDef® video conferences with tens or hundreds or even thousands of people at once (Bono had broadcast to the entire world at Band Aid 2020 in aid of 3rd-world, poverty-stricken Great Britain). Where great corporate skyscrapers once stood, now enormous, futuristic looking glass towers with the sole purpose of housing telecommuters stretched into the clouds.
No time to enjoy the scenery. Chen's suit was graphene-polycarbonate, its fibres moved and ebbed to force cool air through to her skin, keeping her cool. Even while running. Sweat is not welcome at job interviews… Continue Reading "A Vision of Future Tech" →