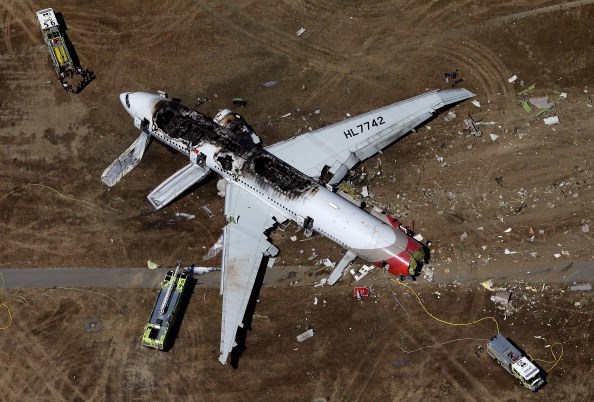 On Saturday morning Asiana Airlines flight 214, flying from Seoul-Incheon in South Korea, crash landed killing two passengers. This marks the first fatal Boeing 777 crash in its 20 years in service.
Eyewitnesses say the aircraft was low on approach and had a very nose-high attitude right before the tail struck the sea wall at the end of runway 28-Left (28L). The tail section sheared off along with at least one strut from the main landing gear, which is visible in the pictures from the beach.
Similarities to British Airways flight 38
Immediately this resembles the British Airways flight 38 crash landing where a similar Boeing 777 crashed at the end of the runway at Heathrow, however there are several factors that suggest the causes here are different.
The BA038 incident occurred after the aircraft had flown through some unusually cold air causing water in the fuel to turn to ice. As the aircraft approached Heathrow, the relatively warmer temperatures closer to sea level caused some of the ice to be released into the fuel pipes. This ice hit a system known as the fuel-oil-heat-exchanger (FOHE for short) and solidified. This caused a dramatic reduction in fuel flow to the engines and a lack of thrust. The rest is history – the aircraft hit the ground with so little forward momentum that it stopped almost immediately but hard enough to drive the landing gear through the wings. That's how they are designed – you want your landing gear to fail before the wing fails! BA038 bellied onto the end of the runway and everyone escaped unharmed (except for some minor injuries picked up by sliding down the escape slides).
But this appears to be a totally different problem for one critical reason: the engines on the Asiana Airlines, and associated fuel systems, are different. The FOHE issues that hit the BA flight are specific to the Rolls Royce Trent 800 while the Asiana is equipped with Pratt and Whitney PW4090 powerplants.
Initial Speculation and Conjecture
Personally, I think it's fairly obvious what has happened here. But I may be wrong.
The key factors to bear in mind are:
The reports that the aircraft was very low on approach
Eyewitnesses saying the aircraft had a very nose-high attitude before the accident
Understanding the override-able nature of the flight-envelope protection on the Boeing 777 (compared to Airbus's envelope protection philosphy)
The reports of a tailstrike
The visible damage to the underside of the aircraft, and the collapsed/missing landing gear
These items indicate, to me, a "low energy state" at the latter stages of the approach. What pilots call "low and slow". Low energy states in aircraft can result in aerodynamic stalls, especially when performing manoeuvres such as turns.   Continue Reading "Boeing 777 Crash Lands at San Francisco Airport Killing 2" →