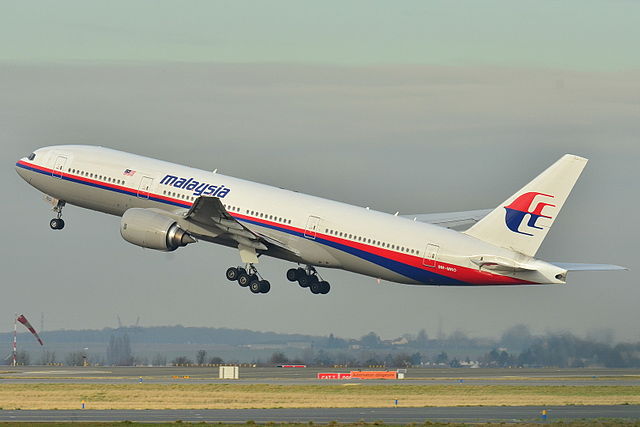 I know as soon as I post this the wreckage will be found and I'll look like a mug, but I had a theory bubble to the top of my brain which might explain where Malaysian Airlines Flight 370 is, and why it disappeared.
The Facts
So we know the following:
The aircraft took off at 00:41 Malaysian Standard Time (MST) on 8th March, which is 16:41 Coordinated Universal Time (UTC)
The Subang Air Traffic Control Centre lost contact with the aircraft around 01:22 local time.

The aircraft hasn't been heard from or seen since.

No mayday call went out. 

Both ADS-B and secondary radar returns stopped at the same time.
Primary radar returns from a nearby military radar station reportedly shows the aircraft turning back for land before vanishing.
Theories in the bin
The Boeing 777 is a aircraft with a remarkable safety record. A technical failure is highly unlikely to have happened because the 777 has multiple, redundant systems. A fuel-tank explosion like that of TWA800 is now impossible due to a process of "inerting" where nitrogen is pumped into the empty space left behind when fuel is used up – meaning you can't get enough of an "air-fuel vapour" to reach flashpoint.
A missile strike would have caused a primary radar return, and also a flash in the sky. The US National Reconnaissance Office admitted it has full-globe capabilities for watching for flashes – typically used to identify the launch of intercontinental ballistic missiles. They say they didn't record any flash.
The aircraft didn't fly into a thunderstorm, in fact the weather in the area was relatively calm.  Continue Reading "Where is Malaysian Airlines Flight 370? Here's one theory…" →