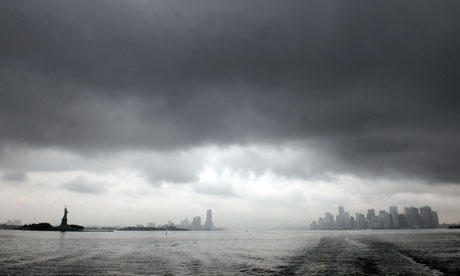 I'm no dare devil, in fact, I'm pretty risk averse, and yet I've managed to be in the wrong place at the right time to experience some of nature's most destructive forces first-hand. I'm a natural disaster magnet.
Don't get me wrong, I'm not your average storm-chaser. I don't have a souped up pick up truck, I don't live in Tornado Alley, and I don't look like Helen Hunt. In fact, I don't chase storms – they chase me. Oh, and earthquakes do too.
15th October, 1987
In the UK we don't worry too much about hurricanes. That's something we allow the people of the tropics to stress about. We like our overcast skies, summer snow, winter heat-waves, and Autumns which fall sometime between August and July. Sure, we get strong winds sometimes, but that's rare. So, in October 1987, when the southern coast of the UK started to get battered by very strong winds, famous British weatherman, Michael Fish, put all our minds at ease:
Phew! However, my family and I weren't in the UK at the time. We were just finishing up a nice holiday in Majorca. And we were about to fly back home. That night. Yikes.
We were the last aircraft allowed through the airspace between France and the UK before it closed for safety reasons. Fortunately, I was only 3 years old at the time and managed to sleep through the entire flight. My mum and dad, meanwhile, were unable to sleep – mostly due to the terrifying lurching, shaking and dropping of the aircraft.
But that was my first meeting with the infinite power of the hurricane.  Continue Reading "Natural Disaster Magnet" →