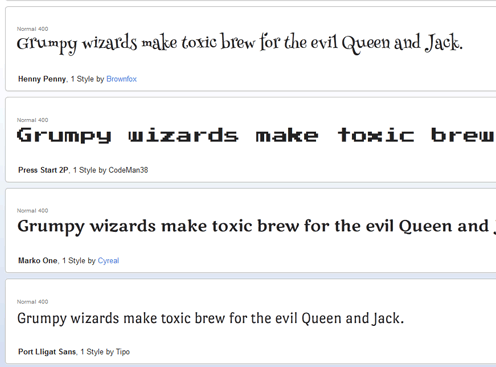 There is an old adage which states, "how you say something is just as important as what you say". I believe this to be true. You can't give a serious presentation while giggling like a schoolgirl or warning of the dangers and hazards in the home while making toast in the bathtub. The same is true of the written word as the spoken word; I am about halfway through (what? I've been busy!) Steve Jobs' biography by Walter Isaacson and it is obvious that Steve knew the importance of proper typography and fonts. I like reading about his passion for perfect kerning and the use of sans-serif fonts for user interfaces, not just at the command line but in bitmapped Graphical User Interfaces (GUI) too.
The web has always been a dangerous place for fonts. Different browsers on different operating systems means you can't guarantee that the font you designed your page with will be there when the user comes to view your page. Adobe (nee, Macromedia) Flash allows you to embed fonts into movies so you can be pretty sure that what you design will be what is shown to your users, but the web is a warzone. There have been attempts by browser vendors to allow font files to be embedded into web pages, but the bitterness between the vendors have made settling on a standard rather difficult… that is until recently when it became obvious that in order to survive in the Post-PC era you need to be very standards-accepting.
The Most Beautiful Website in the World?
I certainly don't mean this site – unfortunately I don't have the spare time to make my blog as pretty as I'd like – I'm too busy (did I already say that?). However, the reason why I've been spurred on to write this today is that I saw an article on Fast Co.'s website which made me take a step back and go, "wow, that's very nice." Not a lot of websites do that… Continue Reading "Web Fonts: Making the Web Beautiful" →