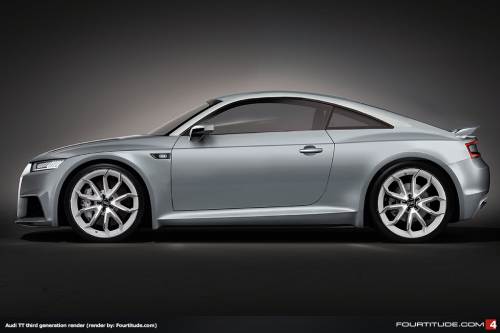 Even if you're not quite the Audi obsessive that I am, if you haven't noticed the evolution in Audis range over the last few years you may want to check you haven't accidentally ended up living under a rock. The next mutation of the Audi design language incorporates "volume" design features – i.e. three-dimensional structures rather than near-two dimensional surface embellishments.
In October, 2012, the new direction and was launched by the Audi Design Team, headed by Wolfgang Egger, with the Crosslane Coupé concept, a compact SUV that looked like an A1 on steroids. Perhaps it was merely preparing the public for the launch of a Q1 model… but such reveals aren't usually accompanied by Egger and his team pointing at bits on the car and going into great detail about why they exist.
That indicates there was extra importance to that event. In fact, Egger subsequently announced that there would be three "families" of cars, and each would share a similar style – but each family would still retain common Audi design DNA.
The Crosslane was the unveiling of the "Q" family styles. The Q3, Q5 and Q7 SUV models are soon to be joined by their sharper, more sporty, "SQ" brethren (SQ3, SQ5, SQ7). Next we eagerly await the "A" and "R" families to see what the next decade has in store for the Ingolstadt vehicles. The R models include the instantly recognisable, and awesome, R8, but is also rumoured to include the TT. There have been rumours for some time too of an "R4" model, a Lotus Elise competitor, in both performance and price. This makes sense as there is a substantial gap between the affordable TT and its all-out supercar bigger brother. It seems reasonable to assume that Audi will bring R family design flourishes into the hardcore RS and high performance S models in the "A" family ranges. While this may blur the lines between the distinctive family styles, it would be an interesting way to knit them together at the top end.
The A family contains the ubiquitous A1, A3, A5, A6, A7 and A8 ranges and is Audi's bread and butter. I am personally not a fan of the Q range, and I'm not suffering from a mid-life crisis yet so I can't get an R-something yet either. So this leads me to my present conundrum. Which Audi do I buy next?  Continue Reading "Which Audi to Buy Next?" →