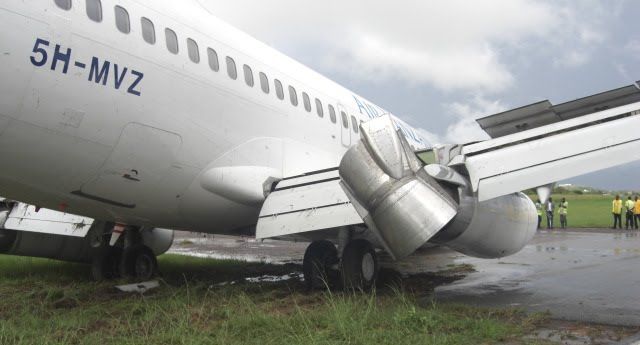 "Ladies and Gentlemen, does anyone know how to fly a plane?"
The question they should be asking is, of course, "does anybody know how to LAND a plane?" Flying is easy. Landing is hard. It is every Flight Simulator geek's dream to be asked into the cockpit to save a pressurised tube full of terrified holidaymakers. But faced with an actual 40-ton flying shard of impending death, could you actually do it?
All of a sudden we were at 700ft with Aberdeen's now-familiar runway 16 ahead of us. Wind was calm, flaps were down, gear was down and I had a 30 million dollar aircraft and 100 souls in my hands. (In my mind)…
Peter un-paused the sim and I guided the plane down as I had practiced at home. The VSI needle read -750 feet per minute, a nice gentle descent down the glideslope (GS). However, I was used to automated call-outs and this aircraft was designed about 30 years before they were added to aircraft.
I kept the 737 on the centreline, aimed for the touchdown zone (marked by large white rectangles painted on the asphalt) maintained 750ft per minute descent until I guessed we were about 50ft off the ground then I closed the throttles and pulled back on the yoke to soften the landing.